Band: Discharge
Titel: End Of Days
Label: Nuclear Blast Records
VÖ: 29.04.16
Genre: Hardcore
Bewertung: 3/5
Written by: Robert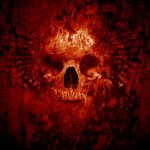 Urbritischer Hardcore Stil, na das kann ja nur Discharge sein. Die Jungs sind schon fast 40 Jahre im Geschäft und scheinen kein bisschen müde zu sein bzw. zu werden. Mit "End Of Days" kehr man auf die Bildfläche zurück und das ¾ der Originalbesetzung. Sie gelten als die europäischen Urväter des Hardcore und das muss ihnen mal einer nachmachen. Geschweige denn das es noch andere Überreste der europäischen Vorväter des Hardcore gibt. Vom Fleck weg wird das Harcore Inferno mit stimmigen Ur Punk Attitüden gestartet und kann und gibt es auch keine Kompromisse.
Voll in die Fresse und nicht nachlassen ist abermals die Devise. Es wird die Lawine ausgelöst und diese bahnt sich ihren Weg. Wer vielleicht auf Überraschungen hofft, der irrt. Die Jungs verweigern sich und kredenzen einen rohen Klang der wie ein aufkeimender Sturm viel Staub aufwirbelt, aber eben wenig Abwechslung bietet. Sehr ähnliche Grundvibes werden durch die Boxen gejagt und das klingt solide und durchaus passend, aber irgendwie hätte man sich wohl etwas mehr erwartet.
Wutentbrannt und angepisst auf Teufel komm raus wird die Keule geschwungen und wer mit solch einem Sound auskommt, der wird seine helle Freude haben. Keine Ausfälle, keine Knalleffekte und das wird der Discharge Fan weiterhin schätzen. Dennoch kann man eben keine neuen Fans rekrutieren, zumindest bezweifle ich das, denn man ist ja heutzutage sehr verwöhnt, auch was den Old Schooler in diesem Bereich betrifft.
Fazit: Wer Discharge bis dato verehrt hat, wird das auch weiterhin tun. Voll und mitten in die Fresse geht eine Zeit lang gut, aber auf Dauer ist das dann doch sehr anstrengend und langatmig.
Tracklist:
01. New World Order
02. Raped And Pillaged
03. End Of Days
04. The Broken Law
05. False Flag Entertainment
06. Meet Your Maker
07. Hatebomb
08. It Can't Happen Here
09. Infected
10. Killing Yourself To Live
11. Looking At Pictures Of Genocide
12. Hung Drawn And Quartered
13. Population Control
14. The Terror Alert
15. Accessories By Molotov (Part 2)
Besetzung:
Tony Roberts (Bones) (guit)
Jeff Janiak (JJ) (voc)
Roy Wainright (Rainy) (bass)
Terry Roberts (Tezz) (guit)
Dave Bridgewood (drums)
Internet: