Gatekeeper – East Of Sun
Band: Gatekeeper
Titel: East Of Sun
Label: Cruz Del Sur Music
VÖ: 27/04/2018
Genre: Epic Heavy Metal
Bewertung: 5/5
Written by: Lex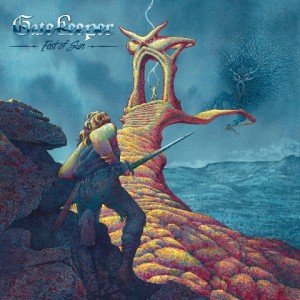 Ich beginne die Lobpreisung dieses außergewöhnlichen epischen Meisterwerkes mit den extrem gelungenen Coverversionen von Savatage´s "Hall Of The Mountain King" und Omen´s "Death Rider". Gatekeeper spielen beide Songs nämlich nah am Original, und schaffen es doch den Kultsongs ihren eigenen Stempel aufzudrücken. Die Epic Metaller zeigen damit, dass sie definitiv in ihrer eigenen Liga spielen und ihre ganz eigenen Trademarks besitzen.
Dass dann (unter anderem) ein "Warrior Without Fear" oder vor allem der phänomenale Titeltrack "East Of Sun"  im Vergleich zu den mehr als meisterhaft dargebotenen Klassikern nicht im Geringsten abstinken, zeigt alleine schon die immense Klasse dieser Band. Gatekeeper kombinieren die majestätische Atmosphäre epischer Manowar-Scheiben wie "Secret Of Steel" oder "Hail To England" mit straigt agierenden Cirith Ungol zu "Paradise Lost"-Zeiten, übertreffen (über das ganze Album betrachtet) aber beide Vorreiter.
Gatekeeper müssen keinen noch so frevelhaften Vergleich scheuen, weil "East Of Sun" eines der besten Epic Metal-Alben ist, die mir jemals untergekommen sind.
Tracklist:
1. Blade Of Cimmeria
2. North Wolves
3. Warrior Without Fear
4. Ninefold Muse
5. Bell Of Tarantia
6. East Of Sun
7. Swan Road Saga
8. Oncoming Ice
9. Death Rider (CD Bonustrack)
10. Hall Of The Mountain King (CD Bonustrack)
Besetzung:
Jean-Pierre Abboud (Vocals)
Geoff Blackwell (Guitar)
Kenny Kroecher (Guitar)
David Messier (Bass)
Tommy Tro (Drums)
Internet: