Seven Sisters – The Cauldron And The Cross
Band: Seven Sisters
Titel: The Cauldron And The Cross
Label: Dissonance Producations
VÖ: 13/04/2018
Genre: Heavy Metal
Bewertung: 4.5/5
Written by: Lex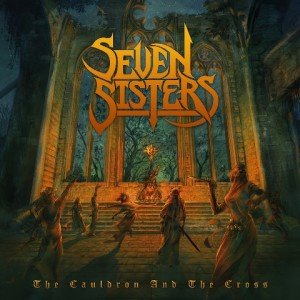 Seven Sisters sind weit mehr als nur eine weitere Band in der Tradition der NWOBHM Anfang der Achtziger. Im Gegenteil zum Groß der Konkurrenz muss ich als Referenz hier einmal nicht die üblichen Verdächtigen aus den Reihen der großen Vorreiter aufzählen. Nein, diese aufstrebende Londoner Band würde ich am ehesten mit alten Warlord-Sachen vergleichen, weil diese ebenfalls diesen eher melodischen und dabei irgendwie mystisch klingenden Ansatz mitbrachten.
Bei den Seven Sisters kann man auf erzwungene Experimente um des Neuen willen auch deshalb locker verzichten, weil der Vierer schlicht gute Songs schreibt, die vielleicht nicht bei jedem sofort zünden, aber einen unerklärlichen Sog entwickeln. Beim zwanghaften Wieder- und Wiederhören prägen sich dann vor allem die geschickten Gesangslinien ein. Gerade "Blood and Fire", "Once And Future King", "A Land in Darkness" und der Zweiteiler "The Cauldron And The Cross" geraten sehr schnell zu neuen heißgeliebten Lieblingssongs.
Jeder Metaller mit Vorliebe für melodischen und intelligenten Metal der Marke Warlord sollte bei diesen hoffnungsvollen Newcomern dringend ein Ohr riskieren. Seven Sisters könnten sich schnell zu einer meiner Lieblingsbands mausern.
Tracklist:
01. The Premonition
02. Blood and Fire
03. Once and Future King
04. Parting the Mists
05. Turning of the Tide
06. Oathbreaker
07. A Land in Darkness
08. The Cauldron and the Cross Pt.1
09. The Cauldron and the Cross Pt.2
Besetzung:
Kyle McNeill (Vocals & Guitar)
Graeme Farmer (Guitar)
Javi Rute (Bass)
Steve Loftin (Drums)
Internet:
Seven Sisters @ Facebook