Band: Grief of Emerald
Titel: It All Turns To Ashes
Label: Non Serviam Records
VÖ: 2012
Genre: Melodic Black Metal
Bewertung: 2,5/5
Written by: Oliver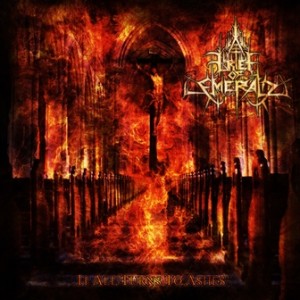 Norwegian Melodic Black Metal, Blackened Death Metal oder wie man´s auch immer nennen mag. Am Ende werden alle diese Bands an Dimmu Borgir gemessen und diese Latte liegt ganz einfach verdammt hoch. Dasselbe Schicksal ereilt "Grief of Emerald". Der fünfte Longplayer "It All Turns To Ashes" erblickt das Dunkel der Welt.
An sich gefällt mir diese Richtung ja ganz gut. Hab ein leichtes Fable für Dimmu Borgir und daher auch immer ein offenes Ohr was den melodischen Teil der Black Metal Fraktion betrifft. Durch die Perfektion, die Shagrath und seine Mannen im Laufe der Jahre erreicht haben, erscheinen jedoch die meisten anderen geradezu Banal. Leider trifft das Ganze auch hier zu. Zu sehr erinnert das gesamte Konzept an die Norweger. Düstere Klänge, getragen von Elementen der Klassik. Alles leider schon mal gehört. Zudem muss man leider sagen, dass die Stimme von Johnny Lehto relativ oft schwächelt. Es fehlt ihm an Kraft um die dunkle Stimmung zu transportieren. Vielleicht sollte man das gesamte ein wenig Überdenken und sich andere, neue Inspirationsquellen zunutze machen anstatt bestehendes zu kopieren.
Fazit: Musikalisch kein schlechtes Album aber eben alles schon mal gehört. Wenn ich Dimmu Borgir hören will, hör ich mir Dimmu Borgir an und keine Kopie davon. So ziemlich jeder Titel ruft direkt das "Das kenn ich doch" Gefühl hervor. Man sollte das Ganze ein wenig überdenken.
Tracklist:
01. And Yet It Moves
02. God Of Carnage
03. Where Tears Are Born
04. It All Turns To Ashes
05. Cage Of Pain
06. When Silence Became Eternal
07. Warstorms
08. Stormlegion (Warstorms Part II)
09. The Third Eclipse
Besetzung:
Johnny Letho (voc & guit)
Christer Bergqvist (guit)
Andreas Hedström (bass)
Johan Havas (keys)
Carl Karlsson (drums)
Internet:
Grief of Emerald Website
Grief of Emerald @ MySpace
Grief of Emerald @ Reverbnation