Band: Hour Of 13
Titel: Salt The Dead: The Rare And Unreleased
Label: Shadow Kingdom Records
VÖ: 2017
Genre: Doom Metal
Bewertung: 4/5
Written by: Peter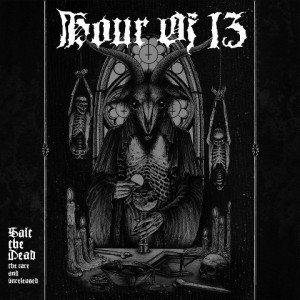 Ein kleines Schmuckstück aus dem Underground können wir Euch mit der neuen Scheibe, eigentlich einer Kompilation namens Salt The Dead:The Rare And Unreleased des Ami-Doom-Projekts Hour Of 13 nahelegen.
Ich persönlich kann jetzt nicht besonders gut beurteilen, wie "rare and unreleased" die vierzehn auf der Scheibe enthaltenen Doom Rocker wirklich sind – auf jeden Fall hat man damit bei mir einen sehr guten Eindruck hinterlassen. Zwar gehen darauf verschiedene Sänger (über die Jahre wechselnd) zu Werke, doch die Grundausrichtung ist immer eine einzige – Doom, Doom, Doom. Und zwar solcher der Sabbath-Schule der 1970er; das ist nicht besonders originell, aber hier äußerst kompetent und effektiv umgesetzt. Ordentliches Teil. Es schlägt quasi die dreizehnte Stunde.
Tracklist:
01. Call To Satan
02. Submissive To Evil
03. The Correlation
04. Endurement To The Heirs Of Shame
05. Grim Reality
06. Hex Of Harm
07. Allowance Of Sin
08. Missing Girl
09. Call To Satan
10. The Rites Of Samhain
11. Upon Black Wings We Die
12. The Gathering / Call To Satan
13. Submissive To Evil
14. Grim Reality
Besetzung:
Chad Davis
Hour Of 13 im Internet:
Hour Of 13 @ Facebook