Band: I'll Be Damned
Titel: I'll Be Damned
Label: Drakkar/Soulfood
VÖ: 05.05.17
Genre: Hard Rock
Bewertung: 4/5
Written by: Nicole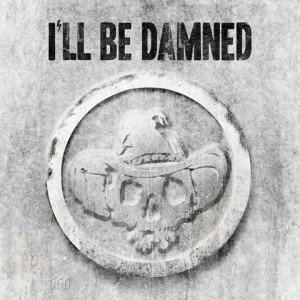 Heute halte ich das Debüt der Dänen "I´ll be damned" in den Händen. Das Album trägt den Namen der Band und macht mich neugierig, verspricht es doch Rock´n´Roll vom Feinsten.
Wer hier gemütlichen AOR oder klassischen Rock erwartet, wird sicher etwas enttäuscht werden. Im Opener "Believe It", wie außerdem bei "Shopping With A Shotgun" sind stellenweise sogar Hardcore-Elemente erkennbar, was den Songs den rockigen Sound jedoch nicht nimmt. Der Frontmann Stig Gamborg Hansen liefert eine erstklassige raue Rockstimme, die an und ab regelrecht schreiend daherkommt und andererseits auch mal fast in Sprechgesang übergeht. Das alles, kombiniert mit Humor, Selbstironie und einer guten Portion Partystimmung liefert eine Scheibe, die nicht zwingend Massen ansprechen muss. Die Lust am Werkeln unter der Kombination der Stimme mit Gitarren, die im AC/DC Rhythmus daherkommen, zeigt sich durch die ganze Scheibe. Semi-Blueser wie die beiden Opener oder der Ohrwurm "People Who Hate People" zeigen die Facetten von "I´ll be damned". Sogar eine balladige Nummer, "Your Only Home", ist zu finden. Abgerundet wird das Ganze mit Stoner-Nummern wie "Real Monsters" oder "Schizophrenic Homos", und einer guten Portion Gitarrensound von höchster Qualität.
Fazit: Alles in Allem ein kleines, gelungenes Meisterwerk, das zwar nicht die Masse bedient, aber Fans der Jungs und des Genres gewiss begeistern wird.
Tracklist:
01. Believe It
02. Fever
03. Drainage
04. Fuck The World (Be Happy)
05. Real Monsters
06. Your Only Home
07. People Who Hate People (Come Together)
08. Schizophrenic Homos
09. Right For The Money
10. Everything Wiggles
11. Shopping With A Shotgun
12. All Be Damned
Besetzung:
Stig Gamborg (voc)
Mathias Smidt (drums)
Kristian Sloth (guit)
Boris Tandrup (guit)
Jens Lunde (bass)
Internet:
I'll Be Damned Website