Band: Milking the Goatmachine
Titel: Clockwork Udder
Label: Noiseart Records
VÖ: 2011
Genre: Grindcore/Death Metal
Bewertung: 3,5/5
Written by: Much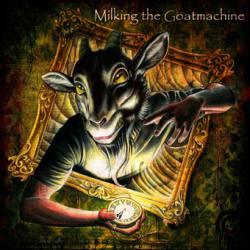 Es ist noch nicht einmal ein Jahr seit "Seven… a dinner for one" her, da Zaubern die Gebrüder Udder schon den nächsten Rundling aus dem Hut. Die Goateborger Mischwesen treiben ja schon seit geraumer Zeit mit "grindigem Death Metal" ihr Unwesen auf deutschen Bühnen.
Sehr groovig beginnt es mit "We want you". Der Mitgrölfaktor ist garantiert und das nicht nur bei dem Opener. Ich kam schon in den Genuss live hinein zu schnuppern! Technisch nach wie vor auf höchstem Niveau – man hätte ja von den Ziegen nichts anderes erwartet – gräbt sich ein Track um den Anderen über die 40 Minuten hinweg in den Gehörgang. Mit "Knock Knock" teilt sich "Clockwork Udder" praktisch in drei Teile. Samplergeschwängert treffen wir auf bekannte Stimmen wie etwa von Super Mario oder Achmed, den toten Terroristen. Eine wahrliche Auflockerung und man sieht erneut, dass die Jungs sich und ihre Pläne zur Welteroberung nicht allzu ernst nehmen, was den Goats dann doch wieder einen Menschlichen Aspekt verleiht. Im Punkto Vielfalt lassen sich die Jungs nicht lumpen und schrecken auch vor Zirkusmusik nicht zurück.
Ein Kritikpunkt – und dieser ist meiner Meinung nach aber Fatal – ist allerdings, das Fehlen jeglicher Pig Squeals. Nun gut, mag man denken, das dürfte doch wohl nicht ins Gewicht fallen. Jedoch ist genau dieser Gesichtspunkt prägend für diese Band. "Milking the Goatmachine" verband Grindcore mit technisch einwandfreiem Death Metal und genau dieser Stil ist sehr schwer anzutreffen, geschweige denn zu kopieren.
Ein wenig wehmütig kann man auf "Surf Goataragua" oder "March into Shed" zurückblicken, wo das Rohe noch dominierte. Selbstverständlich ist das 2011er Werk keineswegs Minderwertig, aber meiner Meinung nach haben sich die Geislein genau deren Attitüde beraubt, die prägend für sie war.
Fazit: Technisch einwandfreier Death Metal, der im Faktor Groove in den vorderen Reihen Tanzt. Mir fehlt allerdings jenes Quantum an Rohkost und Schweinereien, dass diese Band auszeichnet, hoffentlich geht's im nächsten Album wieder ein wenig in die "grindigere" Seite. Nichts desto Trotz gefahrenlos Kaufbar!
Anspieltipps: "We want you", "Straw Palace", "More humour than Human"
Tracklist
01. We Want You 2:24
02. Greatest Of All Times 2:10
03. Human Domestication 2:12
04. Knock Knock Vol 1 1:16
05. Clockwork Udder 1:54
06. Trappings Of Power 1:43
07. Raise Your Horns 2:41
08. Straw Palace 2:37
09. Knock Knock Vol 2 0:48
10. In Combat Column March 2:30
11. The Milky Way 2:14
12. Make It Or Break It 2:46
13. Knock Knock Vol 3 0:56
14. More Humour Than Human 2:39
15. New Broom Sweeps Clean 2:50
16. In Hardest Conditions 6:56
Besetzung
Goatleeb Udder (voc & drums)
Goatfreed Udder (guit & bass)
Live
J. A. Hornlicker (guit)
Tony Goatana (bass)
Internet
Milking the Goatmachine @ Myspace