Band: PHOBIATIC
Titel: PHOBIATIC
Label: Bret Hard Records
VÖ: 20.01.2017
Genre: Technical Death Metal 
Bewertung: 3,5/5
Written by: Maze P.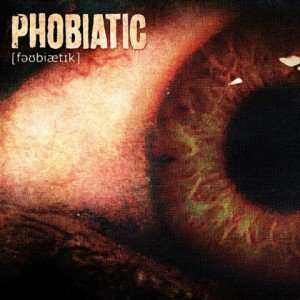 So, das steht mal im Infosheet: "Phobiatic aus Essen sind zurück mit ihrem 3.Album. Das selbst benannte Album bietet alles wofür die Band steht: Moderner, technisch beeinflusster Death Metal mit einem fetten Sound. Phobiatic packen den Hörer sowohl mit kurzem hämmernden Death Metal Stücken, als auch mit athmosphärischen Instrumentalteilen". Album Nr.1 "An Act of Atrocity" (2012)  und Album Nr.2 "Fragments of Flagrancy" (2014) wurden durchaus gut in der Szene angenommen. Die Debut – EP "Spreading the Plague" (2009) ebenso, und somit sind mir die 2008 gegründeten Deutschen mit ihrem neuen Streich wohl eindeutig wert, gehört zu werden. Ob sie die  Beschreibung im Infosheet der Plattenfirma halten können, werdet ihr gleich lesen können.
Noch folgendes: Die CD hätte schon im Dezember 2016 auf den Markt geschmissen werden sollen, aber aufgrund Probleme mit dem Pressing erscheint die CD nun Ende Jänner 2017.
Wer auf genrebezogenen Technical Death Metal der harten und schnellen Sorte steht, ist bei Phobiatic genau richtig. Old-School sei nicht zu vergessen. Das Rezept ist einfach. Die Band lässt es krachen, wo es nur geht. Tiefe Stimme, schnelle Gitarrenriffs, ein wenig Stakkato und viel Technik wurden auf dem neuen Album gut platziert. Es bleibt keine Zeit zum Verschnaufen. Song für Song prügeln sich die Jungs durch 10 Titel, aber immer auf Abwechslung bedacht. Auch innerhalb der einzelnenen Songs findet man bei jedem Durchlauf neue "Dinge", die entdeckt werden wollen. Also, langweilig wird einem nie. Und das ist gut so.
Schade finde ich auf der ganzen CD nur beim Rausschmeißer "Insomniac" den Anfang. Ich liebe Klavier, aber hier ist es einfach irgendwie fehl am Platze. Klingt irgendwie, als ob hier so manches nicht zusammenpasst. Schade drum.
Zusammengefasst bewegt sich die Scheibe im Uptempo Bereich, manchmal im Midtempo Bereich und  sogar ein wenig Doom ist zu hören. Auch der Black Metal wird angeschnitten. Also, alles was das Genre Herz zum Liebhaben braucht.
Natürlich haben die Jungs das Genre nicht neu erfunden, sondern spielen Altbewährtes, aber wer auf Musik á la Cannibal Corpse bzw. Deicide steht, ist hier genau richtig und kann blind zugreifen. Daumen hoch! Rock on!
Tracklist:
01. Domination Matrix
02. Heads will Roll
03. Diplomatic Mitigation
04. Unconscious Perception
05. Vulture
06. Who Among You
07. Scarecrow
08. Phobiatic
09. Architect
10. Insomniac
Besetzung:
Kai Bracht – Drums
Robert Nowak – Guitars
Christian Neumann – Bass
Sebastian Meisen – Vocals
Internet: