Band: Protector
Titel: Cursed And Coronated
Label: High Roller Records / Soulfood
VÖ: 2016
Genre: Thrash Metal
Bewertung: 4/5
Written by: Lex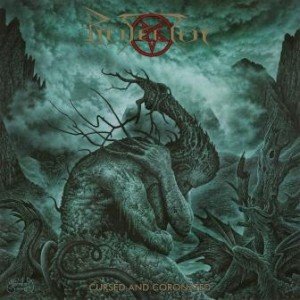 Protector ist ein Zombie des teutonischen 80er-Thrash Metals, der vom einzigen Originalmitglied Martin Missy ausgebuddelt wurde. 2013 erfreuten die neuen Protector die wartenden Heerscharen mit einem "Reanimated Homunculus".
Für mich ist "Cursed And Coronated" das erste Album der Old School Thrasher, und ich kann nicht anders als es gut zu finden. Es klingt wie alte Destruction, nur ohne die ganzen langweiligen und nervigen Stellen. Kurz es erinnert ziemlich an Sodom. Furztrockene Riffs, augenzwinkernd aufgesetztes Bösesein, hin und wieder ein bißchen rumpelnder Black´n´Roll…
Eine verstaubte Geisterbahn, die gerade wegen ihrer Baufälligkeit und Schlaglöcher nostalgische Laune verbreitet, selbst wenn man zu Gründungszeiten der Band noch mit Babyschleim von Klaus Hipp hochgepäppelt wurde.
Tracklist:
01. Intro
02. Xenophobia
03. Selfdesdrugtion
04. Crosses in Carelia
05. Cursed and Coronated
06. Six Hours On the Cross
07. Base 104
08. The Dimholt
09. To Serve and Protect
10. Terra Mater
11. The Old Boil
Bonustracks
12. Intro / Misanthropy (Live Dresden 2013)
13. Sliced, Hacked And Grinded (Live Dresden 2013)
14. Protector Of Death (Live Dresden 2013)
Besetzung:
Martin Missy (vocals)
Michael Carlsson (guitar)
Mathias Johansson (bass, vocals)
Carl-Gustav Karlsson (drums)
Internet: