Band: Abythic
Titel: A full Negation of Existence
Label: Metal Inquisition Records
VÖ: 13. Oktober 2015
Genre: Death Metal
Bewertung: 3,5/5
Written by: Atranok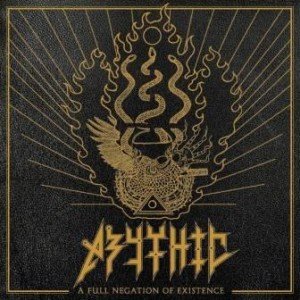 Abythic nennt sich eine relativ neue Truppe aus Deutschland. Erst 2015 formiert, lassen sie uns mit "A full Negation of Existence" auch schon in den Genuss ihres musikalischen Schaffens kommen.
Von Beginn an erinnert die EP an Alben von Urgesteinen wie Bolt Thrower. Aus den Boxen dröhnt Death Metal ohne große Umschweifungen und Ausschmückungen, man geht hier eine ziemlich klare Linie. Dafür, dass nur vier Songs auf der Scheibe vertreten sind, bekommt man doch einen vielfältigen musikalischen Leckerbissen serviert.
Schnelle, fast schon thrashige Passagen stehen im steten Wechsel mit düsteren, nahezu schwerfälligen Parts. Diese teils wirklich breiten Stimmungsschwankungen sind allerdings instrumental wirklich gut umgesetzt und werden durch attraktive Growls sowie knackige Drums ergänzt.
Was man sich beim selbst betitelten Genre gedacht hat, das sei eine Frage am Rande. Als ob die Bezeichnung "Death Metal" nicht ausreichend wäre, erweitert man hier auf "Venomous Old School Death Metal" – naja, wems gefällt … Besser als diese Betitelung ist auf jeden Fall die EP selbst, die sich definitiv nicht zu verstecken braucht.
Fazit: "A full Negation of Existence" ist eine nette Abwechslung zu bereits etablierten Größen. Abythic erfindet hier zwar nicht das Rad neu, liefert aber ein Album, das man sich gern mal anhören kann.
Tracklist:
01. The Dissolution of Adam
02. The Murder of the Clayborn
03. Return to the Origin
04. The Black Light
Besetzung:
DB – Bass, Guitars
HM – Vocals
MDB – Drums
Internet: