Band: RE-ARMED
Titel: THE ERA OF PRECARITY
Label: Saarni Records
VÖ: 30.09.2016
Genre: Death/Thrash Metal
Bewertung: 4/5
Written by: Maze P.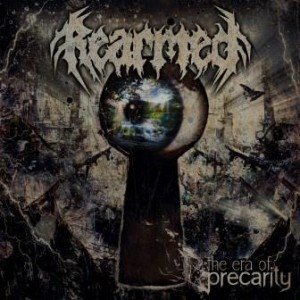 Die im Jahre 2001 gegründeten RE-ARMED veröffentlichten von 2002 bis 2008 insgesamt 6 Demos. Dann, im Jahre 2012 erschien endlich deren Debüt- Full Lenght Album "Worldwide Hypnotize" (wenn man hier noch von einem Debüt reden kann…) gefolgt von "Rottendam (2014), einer EP und nun eben dem neuen Silberling "The Era of Precarity". Fleißig waren die Jungs somit allemal. Auch hört man von Album zu Album eine Steigerung, die sich in guten bis sehr guten  Metal Songs niederschlägt. Textlich wie üblich im Pessimismus und im Anprangern der Gesellschaft angesiedelt. Thrash bis Death über eine ordentliche Portion Rhythmus. Alles vorhanden also, was der geneigte Käufer zum Schädeln braucht!
12 Songs gibt es auf dem Rundling, wobei jeder in seiner eigenen Liga fungiert. Die Band macht alles richtig. Sie geben von der ersten bis zur letzten Sekunde Gas, machen keine Gefangenen, reizen das Ohr aber auch nicht zu sehr und bemühen sich, die Songs immer wieder durch Midtempo Parts oder einer cleanen Gitarre zu entschleunigen.
Das Songwriting ist hervorragend und die Leute beherrschen ihr Instrument. Hier ist nichts außer Takt und es macht Spaß die Songs zu hören. Auch will der geneigte Rezensent headbangen. Was soll also schlecht sein, an der Platte? Eh (fast) nichts. Was in jedem Fall gewöhnungsbedürftig ist, ist die dauernde Verzerrung der Stimme. Auch die cleane Gitarre ist verzerrt, überhaupt ist alles ein wenig mehr verzerrt als sonst. Zumindest klingt es so. Bei 12 Songs durchaus ein wenig anstrengend, da und dort. Sonst aber ist das Album von RE-ARMED völligst geeignet, den Schädel zu bangen und die Haare kreisen zu lassen. Qualitativ hochwertig. Daumen hoch! Rock on
Tracklist:
01. Novus Ordum Seclorum
02. Lullabye of Obedience
03. Through the Barricades
04. Riot Act
05. Ivory Towers
06. Years of Decay
07. Three Headed Beast
08. Evolve Cycle
09. The Aftermath
10. Cursed Beyond Relief
11. Purification
12. The Hunt is On
Besetzung:
Mika Oinonen – Guitars
Iiro Karjalainen – Drums
Juhana Heinonen – Bass
Jouni Matilainen – Vocals
Jussi Venäläinen – Guitars
Internet:
Re-Armed Website