Band: Tarchon Fist
Titel: Proud To Be Dinosaurs EP
Label: Selfreleased
VÖ: 15.07.2017
Genre: Heavy Metal
Bewertung: 4.5/5
Written By: Lex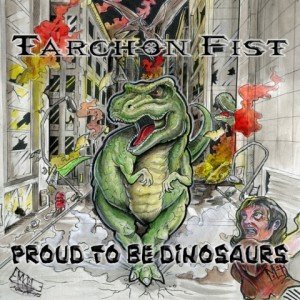 "Tarchon Fist" durfte ich vor nicht allzu langer Zeit anlässlich von "Celebration" (einer Art Best Of) im Rahmen eines Reviews kennenlernen und abfeiern. Obwohl die Italiener wirklich geilen Happy Metal mit alles niederzwingender Eingängigkeit, Laune, Humor und besten 80ies-Feelings abliefern sowie dabei technisch auf bestem Niveau agieren, scheinen die Italiener Probleme haben einen Vertrieb für ihr kommendes Album zu finden. Schon eine Sauerei, wenn man bedenkt was für halbgarer Mist teilweise unter Vertrag genommen und als Oberkult angepriesen wird.
Das Fünfergespann lässt sich aber nicht unterkriegen und reagiert in der Zwischenzeit mit dieser genial betitelten und vier Hammersongs bestückten EP, welche die Band in Eigenregie als Vorgeschmack auf das kommende Album veröffentlicht.
Das Teil ist kurz aber voller Anspieltipps und Lehrmaterial wie man gutgelaunten Partymetal mitreißend darbietet. Und verdammt möge das Label sein, das diese Band nicht unter Vertrag nimmt – wir leben doch nicht mehr in den 90ern und 2000ern, als nur Schrott sich gut vermarkten ließ.
"Proud To Be Dinosaurs" zaubert ein Grinsen in jede griesgrämige True-Fresse und ist kultig as fuck and a duck. Get it!
Tracklist:
01. Proud To Be Dinosaurs
02. Sky Rider
03. Titan Of The Forest
04. Razor From The Abyss
Besetzung:
"RAMON" Mirco Ramondo (Lead Vocals)
"LVCIO" Luciano Tattini – (Guitars & Backing Vocals)
"WALLACE" Marco Pazzini (Bass & Backing Vocals)
"RIX" Sergio Rizzo (Guitars & Backing Vocals)
"JACK" Giacomo Lauretani (Drums)
Internet:
Tarchon Fist Website
Erhältlich über:
Konzertkasse Lange GmbH
Kuhstr. 14
D-47051 Duisburg
Tel.: 0203-287045
E-Mail: info@konzertkasselange.de