Band: Thanatos
Titel: Angelic Encounters
Label: Century Media Records
VÖ: 2013
Genre: Death Metal
Bewertung: 3,5/5
Written by: Thorsten Jünemann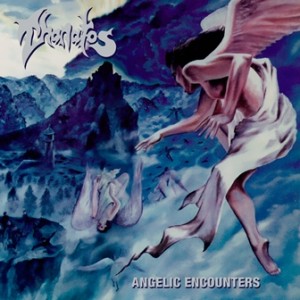 Am 3.Juni 2013 erschien "Angelic Encounters" von THANATOS!
WAS???
IHR KENNT THANATOS NICHT???
Der Legende und Sage nach, waren THANATOS die erste Thrashband/Extremmetalband Hollands, deren Mitglieder heute noch u.a. bei HAIL OF BULLETS, SINISTER, ASPHYX, usw. zocken.
"Angelic Encounters" ist das 3.Album der Band und erschien bereits 2000, aber da die Band re-animiert aktiv ist und fleißig an Album Nr.6 arbeitet, wurde das Album jetzt nochmal veröffentlicht, aber als kleinen Bonus noch die 2002 erschienene EP "Beyond Terror" beigepackt. So macht die Wiederveröffentlichung auch Sinn, denn das Album selbst ist weit von Begriffen wie "Götterdämmerung", etc. entfernt…
Aber die EP rumpelt beeindruckend in die Gehörkatakomben und so sollten alle Death Metal Fans mal ein Ohr riskieren, wie damals schon der extreme Metal klingen sollte, bzw. auch geklungen hat, den die HAIL OF BULLETS Macher bevorzugen.
Dan Swanö hat sich mit der Materie beim Remastern ausgiebig auseinandergesetzt und präsentiert alle Tracks zwar frisch klingend, konnte aber den sog. Spirit erhalten. THANATOS haben es mir (bis auf ganz wenige Songs!) in den 80ern schon nicht wirklich gegeben, und das macht auch dass Remastering nicht wirklich wett. Man könnte den Spaß jetzt schön reden und weitere zig Male die Namen der beteiligten Musiker erwähnen, aber das macht es nicht wirklich besser!
Die 3,5 / 5 Punkte waren jetzt auch nur möglich, weil sich die EP auf diesem Re-Release befindet, die alles rausreißt. Wäre es das Album allein gewesen, wären nicht mehr als 2 Punkte von mir rausgegangen, weil das Songwriting echt nicht geht und zum Sound sage ich jetzt mal auch besser nix…obwohl remastert…
Dann lieber HAIL OF BULLETS, ASPHYX,…
Tracklist:
01. Angelic Encounters
02. In Utter Darkness
03. Sincere Chainsaw Salvation
04. Infuriated
05. The Howling
06. Gods Of War
07. The Devil's Concubine
08. Speed Kills
09. Thou Shalt Rot
10. Corpse Grinder (MASSACRE-Cover)
11. L'Aldila – Beyond Terror
12. Devour The Living
13. Rites Of Retaliation
14. Angelic Encounters 2002 A.D.
15. Satan's Curse (POSSESSED-Cover)
16. Into The Crypts Of Rays (CELTIC FROST-Cover)
Besetzung:
Stephan Gebédi (voc & guit)
Paul Baayens (guit)
Marco de Bruin (bass)
Internet:
Thanatos Website
Thanatos @ MySpace