Band: THE FLIGHT OF SLEIPNIR
Titel: V.
Label: Napalm Records
Genre: Stoner/Doom Metal
VÖ: 24. November 2014
Bewertung: 3,5/5
Written by: Mayhemer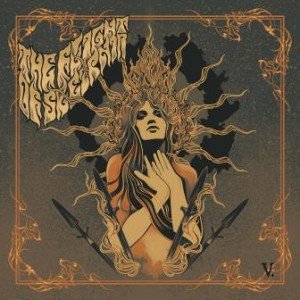 The Flight of Sleipnir arbeiten seit dem es die Band gibt an ihrem eigenen Konzept, ohne sich beirren zu lassen. Und wie immer bedienen sie sich der germanischen Mythologie. Das U.S. Duo weiß schon ganz genau, was es will und auch macht. Klare, akkustische und sphärische Passagen, gepaart mit düsteren Klangerzeugnissen und einer reinen, guten Stimme (Bathory lässt grüßen) werden hier mit wildem Black Metal Gekeife und harten Gitarren vermischt. Aber gut vermischt. Ich komme von den Songs kaum los. Ärgere mich aufgrund der Überlänge der Songs, da ich diese kaum am Stück hören konnte. Da musste ich schließlich eine längere Autofahrt einplanen. Die Amerikaner sind, und das hört man eindeutig heraus, niemanden Rechenschaft schuldig. Wem auch? Die Fans der Band werden sich um das neue Album reißen. Musikalische Entdecker werden sich schon einhören müssen, aber letztendlich zu Fans von The Flight of Sleipnir werden.
FAZIT:  Die Band ist sich auch auf dem fünften Output treu geblieben. An alle Fans: Ihr könnt bedenkenlos zugreifen. Anspieltips: "Gullveig" und "Beacon in black horizon". Geiles Album.
Tracklist:
01. Headwinds
02. Sidereal Course
03. The Casting
04. Nothing Stands Obscured
05. Gullveig
06. Archaic Rites
07. Beacon in black horizon
Besetzung:
Clayton Cushman: Guitars, Vocals, Bass, Keys
David Csicsely – Drums, Vocals, Guitars
Internet:
The Flight Of Sleipnir Website