Band: The Strigas
Titel: A Poisoned Kiss To Reality
Label: Southern Brigade Records
VÖ: 2014
Genre: Gothic/Rock
Bewertung: 2/5
Written by: Robert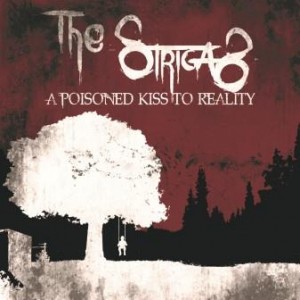 Die Truppe The Strigas serviert uns mit "A Poisoned Kiss To Reality" ihr Debütalbum. Folglich wurde etwas geforscht um dahinter zu kommen, was die Herrschaften genau machen und seit wann. Seit 2010 zelebriert die italienische Mannschaft eine Mischung aus Gothic und Rock in einem steten Wechselgang. Eher für die Black romantischen Freunde dieser Musik geschaffen, denn ihr Klang ist für meinen Geschmack fast etwas zu lieblich. Man serviert uns ein Album, welches sicherlich in der Grundfeste gut positioniert ist, aber einfach weniger originell im Gesamten rüber kommt. Gute Ansätze sind da, selbige gibt es aber auch von vielen anderen Kollegen bereits in einer schier nicht zu übersehenden Vielzahl. Die Tracks sind sehr flockig aufgebaut, gehen schnell rein, harken sich aber im Gehörgang nicht fest. Somit eher unspektakulär was uns hier dar geboten wird. Man darf nicht zu hart sein, denn die Musik der Italiener ist sicherlich nicht schlecht, nur fehlt es einfach an dem gewissen Etwas. Die Tracks tschingelt locker daher, haben aber einfach keinen längeren Reiz und das finde ich noch mehr schade, denn die Ansätze sind erkennbar gut und würden mit mehr Kraft wesentlich besser zünden. Die Mischkultur wäre auch nicht von schlechten Eltern, nur blickt man hier auf eine harte Konkurrenz, mit welcher man einfach nicht mithalten kann. Sicherlich, es ist ein Debütalbum, doch bereits hier können viele andere Kollegen wesentlich durchgreifender wirkende Akzente setzen als die Italiener auf ihrem ersten Streich. Zu viele Einflüsse quer durch das Gothic Meer wurden hier ins Boot geholt und somit sucht man Eigenständigkeit vergeblich. Auch wäre ein deutlich drückender-rauer klingender Sound beim Album besser angebracht als dieses auspolierte Dudeln. Keyboardansätze und viele Arrangements drücken hier sehr dominant in den Vordergrund und somit klingt das Ganze doch etwas zu schmalzig-poliert.
Fazit: Potential hätten die Italiener sicherlich, doch mangelt es einfach an der Originalität, dem zu polierten Sound und einer zu hohen Vielzahl an belanglosen Soundfacetten.
Tracklist:
01. Alone
02. Until You Surrender
03. Sorrow Queen
04. Falling Down
05. Dream Again
06. The Box
07. Wrong
08. Sweet Bitterness
09. No Tomorrow
10. Sometimes
11. Waiting For Glory
12. Fade Away
Besetzung:
Fabio Ficarella (voc)
Liboria Tesoro (bass)
Andrea Losappio (guit)
Ettore Dicorato (guit)
Francesco "Nitro" Sguera (drums)
Internet:
The Strigas @ MySpace
The Strigas @ Reverbnation