Band: Victory
Titel: Don´t Get Mad Get Even
Label: Yesterrock/ Universal
VÖ: 2014
Genre: Hard Rock
Bewertung: 4.5/5
Written by: Lex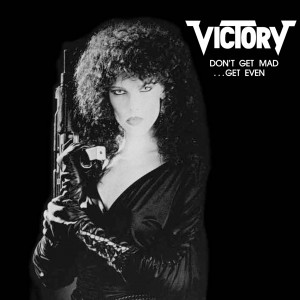 Hier haben wir einen knackigen Re-Release aus dem knallig-verstrahlten Jahre 1986 vor uns. Die Hannover VICTORY sahnten damals mit ihren im besten 80er-Jahre-Stil gehaltenen Simpelstampfern fürs Stadion auch in den USA ganz gut ab. "Don´t Get Mad Get Even" war der zweite Streich der siegreichen Deutschen, bei dem ACCEPT-Axtsschwinger Herman Frank die Gitarren übernahm. Der Opener "The Check´s In The Mail" lief dazumal im dauerwellentragenden Land der Burger und Autokinos erfolgreich im Radio.
Der kleine Radiohit hätte aber genauso gut jeder andere schneidige Kracher dieses wunderbar angestaubten Kleinods sein können: Vor allem "Arsonist Of The Heart", "Are You Ready", "Turn It Up" und "Seven Days Without You Makes One Weak" wären da zu nennen. Einzig bei "Sneaking Out" hat der Zahn der Zeit doch etwas am Mark genagt und fällt etwas ab.
Es heißt, diese grandiose Scheibe sei sehr lange ziemlich rar zu bekommen gewesen. Wenn dem so ist: Großartig dass sich endlich jemand um diese Perle gekümmert hat, denn es wäre schade sie im Trog der vergessenen Schätze bei den Säuen der Vergessenheit vergammeln zu lassen.
Einen klanglichen Vergleich zum Original-Release kann ich an dieser Stelle leider nicht anbieten und kann nur sagen, dass der Sound für mich schön authentisch nach der glorreichen Ära klingt, die "Don´t Get Mad Get Even" hervorgebracht hat.
Tracklist:
01. The Check's In The Mail
02. Are You Ready
03. Not Me
04. Arsonist Of The Heart
05. Hit And Run
06. She's Back
07. Turn It Up
08. Seven Days Without You Makes One Weak
09. Sneaking Out
10. Running Wild
Besetzung:
Charlie Huhn (Vocals)
Tommy Newton (Guitar)
Herman Frank (Guitar)
Fritz Randow (Drums)
Peter Knorn (Bass)
Internet:
Victory Website