Band: With The Dead
Titel: With The Dead
Label: Rise Above Records
VÖ: 2015
Genre: Doom Metal
Bewertung: 2/5
Written by: Lex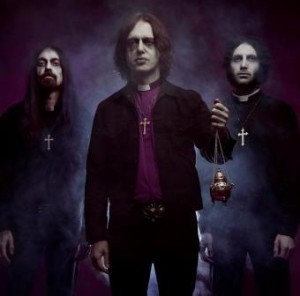 With The Dead rekrutiert sich aus ehemaligen Mitgliedern von Electric Wizard und Cathedral-Gründungsmitglied Lee Dorrian. Mit den Electric Wizard-Jungs scheint man sich nicht ganz grün zu sein: So verkünden With The Dead auf ihrer Facebook-Seite dass ihre Band eine versengende Flamme sei, während das Feuer von Electric Wizard am Erlöschen sei. Auch sonst hat man einiges zu verkünden, beispielsweise den Vorstrafenkatalog von Gitarrist und Drummer, und dass man sich exakt an All Hallows Eve gegründet habe…
Ja, schon kapiert, ihr seid cool und all das Zeug verleiht allen euren Songs wohl noch sowas wie ein gewisses Extra an Glaubwürdigkeit und Mysterium.
Musikalisch gesehen gibt es an With The Dead nichts, was mich als Normalo-Metaller vom Hocker reißt. Die ach so fiesen Vocals von Lee Dorrian sind für mich nichts als langgezogenes Rumgerufe, was ihr Atmosphäre nennt ist für mich nur langsam spielen und was ihr Gitarrensound und Mega-Riffs nennt ist für mich ein rauschender Matschhaufen.
Einen Extrapunkt gibts für das Aufzählen des Vorstrafenregisters – ist zwar birnig aber irgendwie auch metal.
Tracklist:
01. Crown Of Burning Stars
02. The Cross
03. Nephthys
04. Living With The Dead
05. I Am Your Virus
06. Screams From My Own Grave
Besetzung:
Lee Dorrian (vocals)
Mark Greening (drums & concussion)
Tim Bagshaw (guitar & bass)
Internet: