Broken Hope – Omen Of Disease (CD Bericht)
Band: Broken Hope
Titel: Omen Of Disease
Label: Century Media Records
VÖ: 2013
Genre: Death Metal
Bewertung: 3,5/5
Written by: Thorsten Jünemann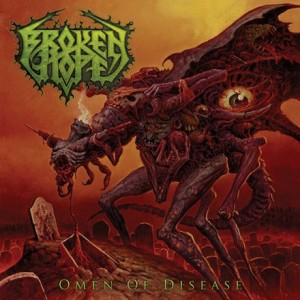 Ob sich die Band BROKEN HOPE aus den US of A wirklich einen Gefallen damit tut, Neuveröffentlichungen unter dem alten Bandnamen zu releasen, obwohl der alte Originalsänger seit knapp 3 Jahren tot ist und sonst auch nur noch 2 Originalmitglieder an Bord sind, wird die Zeit zeigen!
Auch die Klasse des Materials zeigt auf dem aktuellen Album "Omen Of Disease" erst mit der Zeit seine wahre Wirkung und entfaltet sich recht spät im Ohr und Kopf. Hübsch brutal, etwas abwechslungsreicher und ordentlich gespielt/produziert, wird man nicht sofort warm mit dem Material, was aber nicht an "Neu-Sänger" Damian Leski (GORGASM) liegt, sondern am Versuch amerikanisch zu klingen, ohne dabei zuuu amerikanisch klingen zu wollen! Klingt jetzt bestimmt etwas konfus, aber wer sich mal die Zeit nimmt und sich mit dem Album etwas länger auseinandersetzt, wird verstehen, was ich meine!
Kein schlechtes Album und durch einfaches nachknurren und grunzen wird auch nicht versucht, jemanden zu kopieren, bzw. zu imitieren.
Aber der Funke springt nicht sofort über sondern benötigt mehrere Durchläufe! Für die eingefleischte DEATHMETAL-Fraktion ein Anchecken wert, für alle anderen gibt es in den nächsten Tagen bestimmt interessantere Releases zu vermelden…
Tracklist:
01. Septic Premonitions (Intro) 01:18
02. Womb of Horrors 03:09
03. Ghastly 02:42
04. The Flesh Mechanic 02:32
05. Rendered into Lard 03:52
06. Omen of Disease 04:16
07. The Docking Dead 02:01
08. Give Me the Bottom Half 03:06
09. Predacious Poltergeist 02:37
10. Blood Gullet 01:40
11. Carnage Genesis 02:38
12. Choked Out and Castrated 03:39
13. Incinerated (2013 Redux) 02:29
Besetzung:
Damian Leski (voc)
Jeremy Wagner (guit)
Shaun Glass (bass)
Chuck Wepfer (guit)
Mike Miczek (drums)
Internet:
Broken Hope Website
Broken Hope @ MySpace