Band: Necronomicon
Titel: Pathfinder…Between Heaven And Hell
Label: TrollZorn Records
VÖ: 27. November 2015
Genre: Thrash Metal
Bewertung: 4/5
Written by: Lazer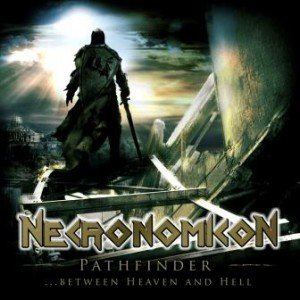 Thrash Metal-Töne einer Legende erreichen uns dieser Tage. Deutschlands Necronomicon veröffentlichen ihr achtes Album "Pathfinder…Between Heaven And Hell" via TrollZorn Records.
Seit Sommer 1984 besteht die Gruppe rund um Vocalist Freddy nun schon. Wobei im aktuellen Line Up eben nur mehr eben genannter Screamer als Gründungsmitglied vertreten ist. Nichts desto Trotz, rotzen die Thrasher Hertingen zehn Tracks voller Energie und Power aufs Parkett.
Zugegebener Maßen ist das hier schon etwas schwerere Kost, und man muss sich schon ein wenig einhören in die Songs, dauern sie bis auf einen (4:43) allesamt weit über fünf Minuten und gipfeln in einem "Out Of Hell" mit knapp neun Minuten Spielzeit.
Gut, bei dem hier Dargebotenem kann man aber diese Marathonnummern von Necronomicon aber durchaus kerfraften. Denn langweilig wird es nie. Aber absolut nie. Die Mannschaft verpackt mehrere Elemente in gekonnt abgerundeten Tracks. Ob von Punk bis Old School, oder von Midtempo bis Speed-Thrash, alles gibt es hier zu spüren.
Necronomicon lässt es sich auch nicht nehmen, ehemalige Mitglieder wie zum Beispiel Lala, Jogi oder Andi hier teilweise mitwirken zu lassen. Also ein sehr persönliches Album mit einer Zeitreise der 31-jährigen Geschichte dieser Haudegen. Die Tracks sind jeder für sich absolut kraftvoll und besitzen immense Durchschlagskraft. Aber obgleich die Songs schneller oder langsamer sind, jeder Track hat seine fette Portion Melodie und Rhythmik an Board. Es wird hier nicht blindlings drauf losgeschlagen. Nö, die Herren wissen sehr wohl, was sie hier mit ihrem Arbeitsgerät anstellen.
Mein Fazit: Pathfinder…Between Heaven And Hell von Necronomicon ist ein sehr gelungener Longplayer und darf gerne geordert werden. Sauber anständige Tracks die so richtig fahren und keinen Stein auf dem Andren lassen und dennoch eingehend und genussvoll sind.
Tracklist:
01. Pathfinder…Between Heaven And Hell
02. Betrayed
03. Inside The Fire
04. Reborn
05. Under The Gun
06. We Are The League
07. Alone In The Dark
08. Farewell To A Friend
09. Monster
10. Out Of Hell
Besetzung:
Freddy – Vocals, Guitars
Mike – Guitars, Backing Vocals
Marco – Bass, Backing Vocals
Chris – Drums
Internet: