Band: The Treatment
Titel: Generation Me
Label: Frontiers Records
VÖ: 2016
Genre: Hard Rock
Bewertung: 5/5
Written by: Lex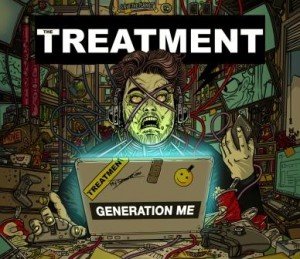 Aufgrund eines albernen mittelalterlichen Aberglaubens sind wir uns alle einig, dass das dritte Album einer Band entscheidend dafür ist, ob der große Wurf möglich ist oder nicht. War ja schließlich schon bei Iron Maiden so… Jedenfalls, wenn dem so ist, dann haben THE TREATMENT ganz große Zeiten vor sich: "Generation Me" liegt stilistisch irgendwo zwischen Arschtritt-Rock n´Roll wie AC/DC, Tesla und Rose Tattoo (manchmal vielleicht auch ein wenig Skid Row) und ist von hinten bis vorne einfach nur p.e.r.f.e.k.t.!
Eines der wirklich seltenen Alben, bei denen jeder Track vom ersten Moment an zündet und immun ist gegen Abnützungserscheinungen. Keine Ahnung, ob die Vorgängeralben auch schon so gut waren, aber dieses Album steht schon jetzt fix in meiner Top Ten für das Jahr 2016.
Pflichtkauf mit Dauerrotationsgarantie!
Tracklist:
01. Let It Begin
02. The Devil
03. Tell Us The Truth
04. Generation Me
05. Backseat Heartbeat
06. Cry Tough
07. We Are Beautiful
08. I Know She Knows
09. Bloodsucker
10. Better Think Again
11. Light The Sun
Besetzung:
Mitchel Emms (Vocals)
Tagore Grey (Guitar)
Tao Grey (Guitar)
Dhani Mansworth (Drums)
Rick 'Swoggle' Newman (Bass)
Internet: