Band: WOLFPAKK
Titel: Rise of the Animal
Label: AFM Records
VÖ: 27.02.2015
Genre: Melodic Metal
Bewertung: 4,5/5
Written by: Mayhemer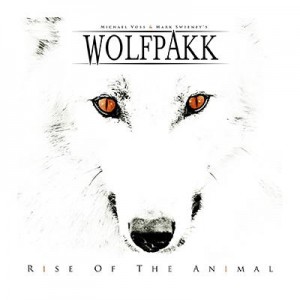 WOLFPAKK ist eine hervorragende Melodic Metal Band, die eigentlich aus nur 2 Leuten besteht: Michael Voss und Mark Sweeney. Allerdings liest sich deren Gästeliste wie das Who is Who der Metalwelt und verleiht der bereits dritten CD "Rise of the Animal" mehr als nur Flügel, denn so ein gewaltiger Sturm der mir in Form von 11 Tracks hier entgegenweht. ist grenzgenial. Schon nach dem ersten Ton lasse ich mich von diesem gewaltigen Orkan mitnehmen und bin ein "Rider of the Storm", wie deren Opener auch schon heißt (Wahnsinnsüberleitung). Überhaupt kann ich über die CD nur Gutes sagen: Songs wie der soeben genannte Opener oder "Sock it like me", Highlands, "Black Wolf", "Grizzly Man" "High Roller", ach was ALLE Songs sind Glanzstücke, die durch Götter wie Michael Kiske, Joe Lynn Turner, Don Dokken, Mike Terrana, Bob Daisly usw. zu einem grenzenlosen Vergnügen veredelt wurden. GENIAL! Das ist Musik in meinen Ohren! Immer und immer wieder! Es wird mir auch nach dem zehnten Durchgang nicht langweilig, denn ich entdecke immer noch etwas Neues. "Rise of the Animal" ist das zugleich härteste aber auch songwriterisch ausgefeilteste Album der Wölfe. Ein perfekter Rundling!
Jungs, eine Frage hätte ich da mal: Was ist mit Live?
Tracklist:
01. Rider of the Storm
02. Sock it to me
03. Monkey on your Back
04. Highlands
05. Black Wolf
06. Somewhere Beyond
07. Running Out Of Time
08. Grizzly Man
09. High Roller
10. Rise of the Animal
11. Universe
Besetzung:
Michael Voss
Mark Sweeney
Gäste:
Vocals:
Michael Kiske (ex-Helloween, Unisonic)
Andi Deris (Helloween)
Ted Poley (Danger Danger)
Joe Lynn Turner (ex-Rainbow/Deep Purple)
Rick Altzi (Masterplan)
David Reece (ex-Accept)
Charlie Huhn (Foghat/, ex-Gary Moore)
Don Dokken (Dokken)
Marc Storace (Krokus)
Michaela Schober Jean-Marc Viller (Callaway)
Bass:
Bob Daisley (ex-Black Sabbath/Gary Moore)
Al Barrow (Magnum)
Barend Courbois (Blind Guardian)
Gitarre:
Jeff Watson (Night Ranger)
Ryan Roxie (Alice Cooper)
Bernie Torme (Ozzy Osbourne)
John Norum (Europe)
Doug Aldrich (ex-Whitesnake/Dio/Foreigner)
Axel Rudi Pell
Martin Rauber
Keyboards:
Chris Ivo (Jaded Heart)
Dudelsack:
Pablo Allen (Skiltron)
Drums:
Mike Terrana (Tarja Turunen)
Mark Schulman (Billy Idol, Foreigner)
Simon Philips (ex-Toto)
Chris Slade (AC/DC)
Gereon Homann
Internet:
Wolfpakk Website